WHY WAKF INVESTMENTS ?
We will help you on your search for a desirable property, guiding you through the entire process. Contact us today for information.
WAKF Investments Ltd is a well established company, deals in all sorts of properties from residential to commercial. Our mission is to promote the trade and investment between UK and Pakistan. We are offering properties and houses for sale in UK and Pakistan. WAKF Investments is a reliable company that has built up an enviable reputation. The director of the company Mr. Faisal Khwaja with over 17 years of experience in estate agency as a mortgage advisor now has expanded his business to worldwide. We pride ourselves on our commitment to provide a professional and speedy service at all times, whilst maintaining the highest quality of work. Join the many families we have already helped realise their dreams of owning the perfect home. Our experienced team always work hard to create an enjoyable buying experience, ensuring everything goes as smoothly and stress-free as possible. At WAKF Investments we ensure we provide an immaculate service to all our customers and clients. The only secret to our success is that we have been working with honesty and trust.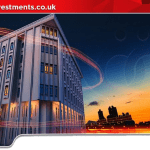 WAKF INVESTMENTS LTD.
WAKF INVESTMENTS LTD.